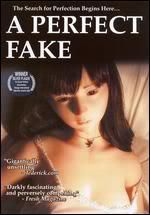 In March 2007 Central Park Media launched a label known as "Below the Radar". This label licenses live action films, documentaries, and other cult titles that are "below the radar". As
Anime News Network
writes :
"Below The Radar will be the source of "desirable oddballs" – those offbeat, non-mainstream motion pictures and programs that have always had a devoted consumer base. The label, to be distributed by WEA Corporation (
Warner Music
Group's U.S. sales & retail marketing company), will feature both recent movies, and also older oddball films previously overlooked because of their eccentricities."
The first title released was the documentary "A Perfect Fake", directed by Marc de Guerre. This documentary won the Silve Plaque at Chicago International Television Awards. It is about the secret world of "mannequin fetishists " . Another title released under this label in 2007 was the black comedy/horror film "BACKSLASH" directed by Kevin Campbell . The third title released under this label was the horror film "Kissed by an Axe". "Kissed by an Axe" was directed by David Sterling.
Central Park Media also launched a site for their new label
BTRFilms.com
, but it has sense gone down. You can view an archive of the website
here
, courtesy of the Wayback Machine. These title are a return to CPM's start when they had licensed and released many mainstream documentaries along with their anime.
John O'Donnell , Owner and Founder of Central Park Media, was also a guest on
Rightstuf's podcast
in June 22, 2007, where he talked about the "Below the Radar" label launch and the titles they licensed for it. He also talked about their recent
Asian Pop Cinema
releases (Cat Girl Kiki , Legend of the Doll , and Pretty Made Cafe). John O' Donnell also talked about how the industry has changed and grown in the U.S. over the years, how he got into anime, and how he started Central Park Media in 1990. He talked about their up-coming manga and manhwa (for example "Full House", "Casino Lily" , "Yebisu Celebrities", "Virgin Soil" etc) titles as well. John O'Donnel also talked about how he plans to re-release more of their older titles, and hopefully license something new soon. He said he wants to make anime "more affordable" by re-releaseing their older titles for much cheaper then their last release of those titles. He also stated how he would like to re-release "
Project A-KO
" for its 20th anniversary .
During the podcast, John O'Donnell made some suggestions of anime that he thinks everyone should watch. These are his personal favorites, from his catolog, and one title from Manga Entertainment.

John's Personal Recommendations:

MD Geist - CPM
MD Geist II - CPM
Project A-Ko - CPM
Ghost in the Shell - Manga Ent